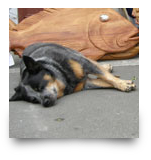 Dogs
Please leave your dog at home.
The weather in Martinborough can be stinking hot on Fair Day. Couple that with the large crowds and you can see why it's just not the place for your faithful pup, (even on a leash).
We get more than 25,000 visitors of all ages to the Fair, from the very young to the fairly old.
While it is nice for you to have your beautiful pet with you, please - this is not the place to do it.