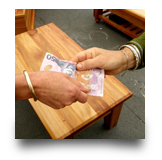 Money
The BNZ in the Square opens from 9.a.m. until 2.p.m. for EFTPOS transactions.
A BNZ cash machine is located in Kitchener Street opposite the Wine Centre.
Some stallholders accept payment by Eftpos.
An ANZ Night and Day cash machine is available in Martinborough in Kitchener Street and in Featherston and Greytown.